Virtual Event Platform
---
Coconnex virtual event platform empowers event organisers to increase their global footprint by hosting full scale events, no matter the size.
Easily deliver engaging online conferences, buyer seller meetings, virtual and hybrid tradeshows and more with our fully integrated, flexible, secure, virtual event platform.
Our Virtual Event Platform helps buyers and sellers to connect virtually to do business.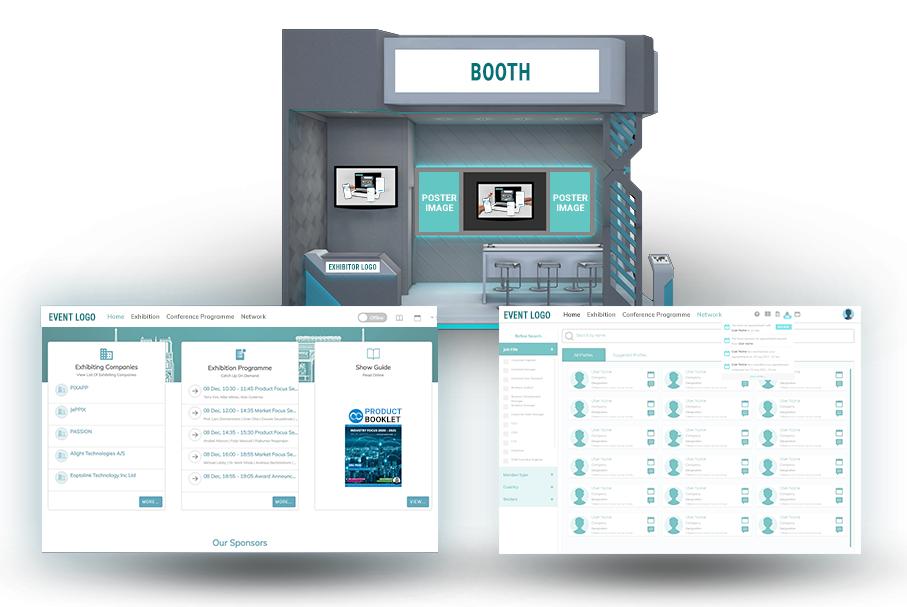 Highlights
Single integrated platform to run your virtual, hybrid and live events no matter the size or format of your event
Our solution is comprehensive, integrated, flexible and can be easily customised to align with your business workflow to deliver your event from start to finish
Single Sign On, Single subscription, cloud based to address your event volume
Expert hands-on technical team to support and train you to start delivering your promise
Measure your events performance and understand the value your event has generated
Deliver your events securely
Virtual Conference
Deliver engaging experiences to a global audience, no matter the size with no barriers to travel and safety
Enable a single sign on for seamless attendee registration to move from a virtual to a hybrid or a live event
Fully Integrated with Zoom for large conferences
Single sign on for seamless attendee registration to move from a virtual to a hybrid or a live event
Enable speakers to get ready in a green room before they go live
Track different sessions and enable attendees to create a personalized schedule
Repurpose, reinvent and enable a repository of engaging video content to your attendees for watch-on-demand
Engage your attendees in between sessions with live polling, Q&A, personalised on-screen annotations in the sessions, access to highlights of pre-recorded videos and ability to rate speaker sessions and content
Create meaningful connections by intelligent matchmaking, 1-2-1 online meetings with time bound, focused, personalized video meetings
Measure your events success with real time data by sessions, speaker success, networking and much more
Reduce costs on logistics, venue and infrastructure allowing you to utilize your people time effectively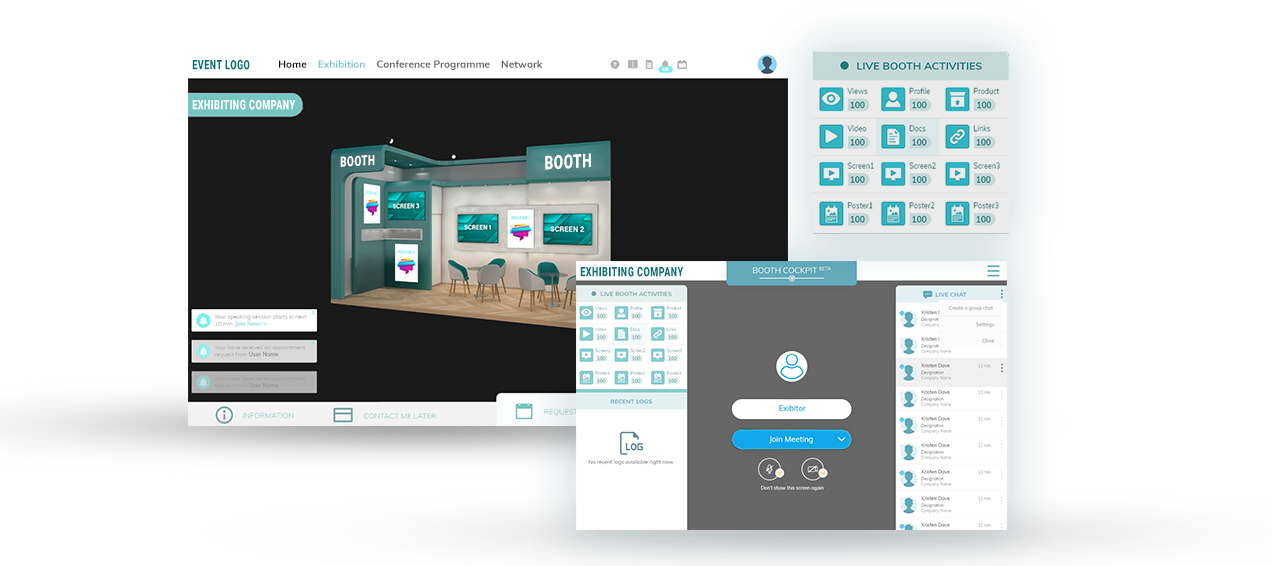 Online Buyer Seller Meetings
Facilitate direct contact between exhibitors and buyers from domestic and international markets through prescheduled meetings
Enable Buyers and sellers to meet online in dedicated meeting rooms which are time bound and secure
Access to a live online support Helpdesk which is key for delivering successful virtual events
Virtual and Hybrid Tradeshows
Deliver your virtual and hybrid tradeshows seamlessly
Single sign on for seamless attendee registration to move from a virtual to a hybrid or a live event
Dress your virtual booth with your branding colours, showcase marketing material, product catalogue, pre-recoded product explainer videos to attract and engage visitors
In built video conferencing and chat for online product demonstrations in your booth cockpit
Ability to search and schedule secure, time bound meetings to meaningfully engage, making optimal use of time
Waiting lobby before you get into an online meeting
Chat live to engage with your visitors
Provide booth analytics report to your exhibitors and sponsors with insights on booth attendance, call to action clicks, meetings set up and more