Company Profile
Wind Europe is the world's largest energy network, promoting wind power in Europe and other parts of the world. With over 700 members in almost 60 countries, Wind Europe coordinates international policy, communications and research & analysis.
Wind Europe organises numerous regular events: conferences, exhibitions, launches, seminars and workshops. Wind Europe has been organising events for wind power industry in Europe, for the past 25 years. These events encourage the exchange of international experience on policy, finance and technical developments, and showcase the latest technology.
Coconnex in Action
Wind Europe wants to use an integrated, branded engagement technology for their next two mega events: "OFFSHORE 2015" and "Annual 2015 Event". The key requirements are- engage and attract event participants, increase stand sales and enhance overall efficiency in managing the event. Wind Europe shortlisted Coconnex to address these requirements, improve the sales process and for provide an enhanced exhibitor and visitor experience.
OFFSHORE 2015 is scheduled to take place on March 9th till 12th, in Denmark. Annual 2015 Event is scheduled to take place on November 17th till 20th, in France. The Coconnex system is up and ready for the mega event and is being accessed by hundreds on a daily basis. Coconnex is providing two views of the Interactive Floor Plan for this- the Self Service Sales View and the Visitor View. In addition, it is also providing an Exhibitor Directory for both events. The Interactive Floor Plan's Self Service View will boost the stand sales and reduce operational costs for managing stands. Exhibitors and visitors will engage better with relevant information about participating exhibitors through the Visitor View and Exhibitor Directory. The Visitor View allowed visitors to search the exhibition to locate the companies that they needed to visit. The Exhibitor Directory would also help the organisers in further monetising the event by offering attractive add-on packages to exhibitors for marketing themselves through the directory.
Image: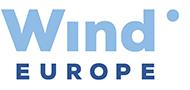 Top text::
Wind Europe is the world's largest energy network, promoting wind power in Europe and other parts of the world.